P&C Specialist is reporting on which Personal Lines carriers are losing or gaining customers during the current auto repair inflation crisis. Note that every carrier listed but one has been hemorrhaging customers as they struggle to raise rates to cover the unexpected increase in auto repair costs. The outlier that is adding policies is Progressive. Progressive leveraged their well-known advantage in rapid rate filing to adjust rates far faster than competitors. Yet they were able to win more than a million new customers from competitors who at that time had lower rates. How could that be? How could the carrier who raised rates first win business from carriers who raised them later?
It's quite simple: Progressive's rapid rate filing capability gave them confidence that they could profitably sell into this market while competitors that hadn't filed their new rates knew that they would lose money on every policy they sold. So, the rest of the market really had no choice but to let Progressive scoop up the business that they literally could not afford to win.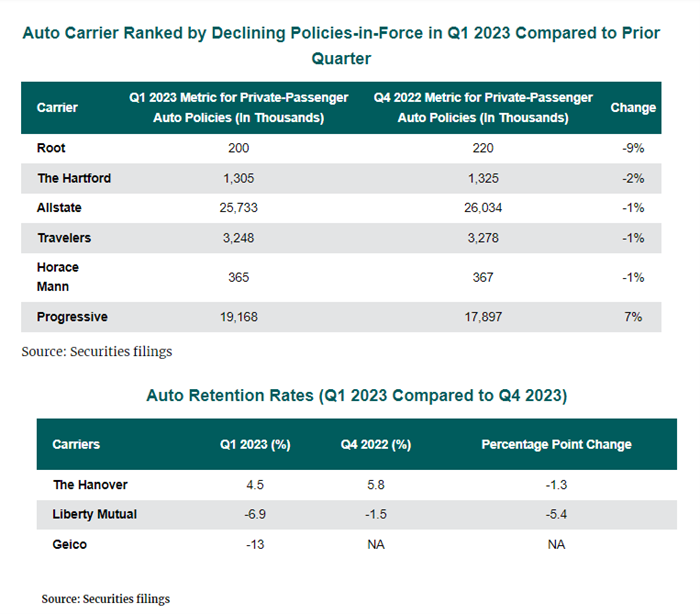 Geico Stumbles
The other outlier in this story is Geico. At the same time Progressive was soaring Geico reported that its retention rate had fallen 13% from the previous quarter. Which is striking when you remember that until recently Progressive and Geico were all but synonymous as the two giants who were carving up the auto insurance industry.
But they are very different companies. Progressive, as its CEO constantly says, is a "technology company" that happens to be in the insurance business. Their sophisticated use of information lets them respond faster to market shifts and more precisely target and win the risks they want and avoid the ones they don't. On the other hand, Geico is a company that has long been successful pursuing a 'Direct to Consumer' distribution strategy but has stumbled badly because they lacked the ability to rapidly detect and adapt to the changing environment.
Our Perspective: Carriers need tools that leverage the enormous investments they have made in modern core systems.
Which illustrates just how critical the ability to rapidly respond to macro market shifts and precisely target and win attractive business is to auto carriers. And the only way that can be done is by intelligently leveraging the information technology investments that carriers have spent hundreds of billions of dollars on. Carriers must focus on finding ways to leverage their real time data flows to respond far faster to market changes and the ever-evolving risk environment That's why we have created idFusion, a Risk Selection platform that leverages the rich data flows of modern core systems to radically accelerate the discovery and elimination of excess risks at POS.
VeracityID offers idFusionTM: an automated risk selection toolset that allows business teams to detect and rapidly compose highly targeted solutions to stop hundreds of different errors, premium leaks, and frauds – all before a new risk is bound. idFusion integrates seamlessly with personal auto and homeowners core systems.
---